Welcome to Flintstone Marble and Granite. Your premier Quartz, Granite and Marble fabricators and installer in Maryland
Are you planning to renovate or remodel your kitchen? Do you want your kitchen to have a new look that is not only beautiful but also functional? Flintstone Marble and Granite is a leading countertop company in Rockville, Montgomery County Maryland that offers the best kitchen countertops, including Quartz, Granite and Marble to make your dream kitchen a reality.
PRODUCTS & SERVICES
---
Our most valuable asset includes our employees, experience, craftsmanship, and unparalleled customer service. As a result, we guarantee products of distinction and a commitment of expeditious delivery that exceed our customers expectations from concept to reality.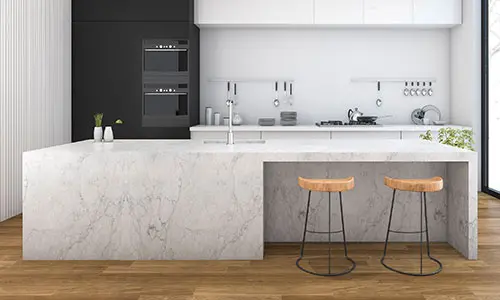 QUARTZ COUNTERTOPS
Quartz Countertops come in a wide range of beautiful colors and patterns. It never needs sealing, it is resistant to chipping, and it is manufactured to last a lifetime.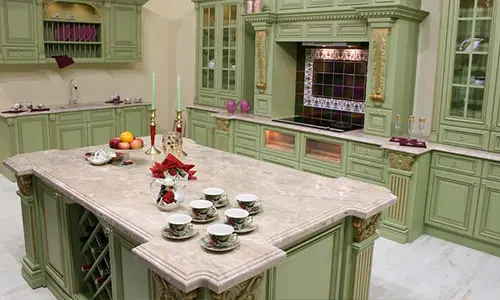 QUARTZITE COUNTERTOPS
Quartzite is a naturally stirring metamorphic pillar. It is shaped once stone is exposed to great heat and weight produced by tectonic plate density in the crust of the earth.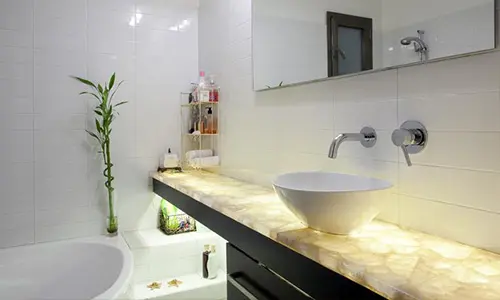 GRANITE AND MARBLE
Granite creates a regal effect in any surrounding where it is used. Whether for residential or commercial purposes, granite is a winner any day.
QUALITY WORK
We fuse in the most advanced technology and world craftsmanship of our stone artisans to produce the finest quality kitchen countertops in DC Metropolitan area!
.
FAST TURNAROUND
Our investment in a "digital shop" means we can offer the fastest turn around times in the industry. Template to install time can be as short as one week!
.
HUGE SELECTION
We currently have a large selection of natural stone. We maintain an inventory of 100 plus, of the finest, granite countertops color in Maryland & DC area.
.
WARRANTY
We pride ourselves on our after sales services. We warranty all of our work and ensure that owning your countertops remains a pleasurable experience.
.
Ours sale rep always communicated well and answered all questions. Very good quality. No problems, shipped to door with no surprise fees. I would definitely be a returning customer. The granite countertop looks beautiful. The whole transaction went smooth. Excellent customer service. Great prices. We will recommend you to everyone. Thank you.
Sheila S.
Rockville, MD,
I want to thank you for the wonderful work that you and your company performed at our house. My wife and I are extremely happy with the look of our granite countertop. I also appreciate your assistance in getting this project completed with our tight schedule. We will be building a new home on the adjacent property within the next year. I will definitely call you to install all of the new tops at this house. Thanks again!
Greg V.
Silver Spring, MD,
We want to thank you for the amazing granite countertops that you fabricated and installed. Our kitchen was transformed into what some would call a model kitchen. Your service far exceeded what we were expecting. We appreciate you being patient with our many phone calls and questions, your quick service, and being flexible with our requests…including our "bath-tub size" sink. Our kitchen is now my favorite part of our home. Thank you again for everything you did.
Mark P.
Washington, DC,






Flintstone Marble and Granite is a countertop contractor in Rockville, MD with a mission to provide countertops of the highest level of elegance and sophistry. We offer different types of custom natural stone countertops ranging from marble countertops and granite countertops and Quartz brands including: Wilsonart Quartz, Polarstone, Cambria, Caesarstone, Silestone, Dekton, Neolith and many more.
Countertop Contractors, Fabricators, Installers
As a leading countertop contractor in Montgomery county MD with over ten years' experience in the kitchen countertop industry, Flintstone Marble and Granite provides every type of countertop to make your kitchen the best place in your home. Whether you want quartz countertops or marble countertops, we can supply you the best kitchen countertops in Maryland at the most competitive rates. If you are looking for a granite contractor near Rockville, Potomac, Gaithersburg or Bethesda and beyond, look no further. Flintstone is poised to cater for all your countertops needs with a wide range of countertops to choose from. We have a dizzying number of samples that are surely going to spoil you for choice. While our countertops are made with the best materials, they are nonetheless highly affordable. Our main objective is to help you create a kitchen that carries your personality and a comfortable ambience that will make your kitchen the best place to be.
Countertop Installation Services
Flintstone Marble and Granite is a leader in the countertop business, and our kitchen countertop installers are some of the best in the countertop industry. Whether you need professional granite countertop installers or you need highly experienced quartz countertop installers to create a kitchen countertop with the highest degree of perfection, Flintstone Marble and Granite offers cutting-edge tools and highly experienced installers to help you personalize your kitchen. Our installers will collaborate with you to create a kitchen that you can always be proud of every time. At Flintstone Marble and Granite, our goal is to create kitchen countertops that are durable, functional and which add more color and glamor to your kitchen. We offer premium products and services at the best rates.  With a wide range of kitchen countertop designs to choose from, Flintstone Marble and Granite promise to make your kitchen a sight to behold.