PRODUCTS & SERVICES
---
Our most valuable asset includes our employees, experience, craftsmanship, and unparalleled customer service. As a result, we guarantee products of distinction and a commitment of expeditious delivery that exceed our customers expectations from concept to reality.
KITCHEN COUNTERTOPS
A new granite countertop instantly updates the look of your kitchen and adds value to your home. Take a look at our large selection of natural stone.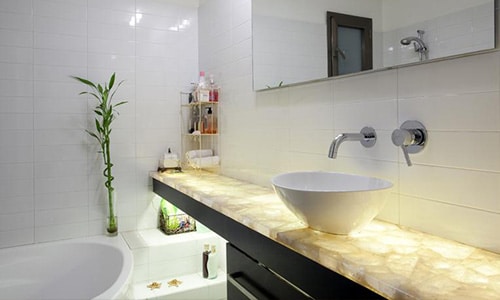 BATHROOM VANITIES
We have a great selection of granite and marble for vanities, vanity cabinets along with elegant faucet and bowl fixtures.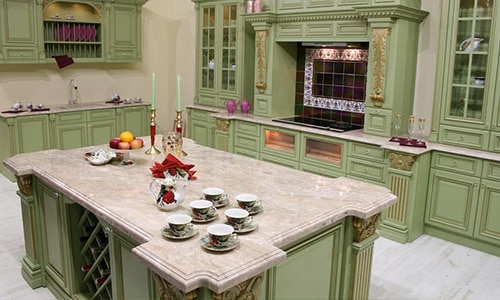 KITCHEN CABINETRY
At Flintstone our core philosophy with cabinetry is to incorporate your style while we enhance your kitchen functionality.
QUALITY WORK
We fuse in the most advanced technology and world craftsmanship of our stone artisans to produce the finest quality products.
FAST TURNAROUND
Our investment in a "digital shop" means we can offer the fastest turn around times in the industry. Template to install times as short as one week!
HUGE SELECTION
We currently have a large selection of natural stone. We maintain an inventory of 100 plus, of the finest, granite countertops color in Maryland & DC area.
WARRANTY
We pride ourselves on our after sales services. We warranty all of our work and ensure that owning your countertops remains a pleasurable experience.
Ours sale rep always communicated well and answered all questions. Very good quality. No problems, shipped to door with no surprise fees. I would definitely be a returning customer. The granite countertop looks beautiful. The whole transaction went smooth. Excellent customer service. Great prices. We will recommend you to everyone. Thank you.
Sheila S.
Rockville, MD,
I want to thank you for the wonderful work that you and your company performed at our house. My wife and I are extremely happy with the look of our granite countertop. I also appreciate your assistance in getting this project completed with our tight schedule. We will be building a new home on the adjacent property within the next year. I will definitely call you to install all of the new tops at this house. Thanks again!
Greg V.
Silver Spring, MD,
We want to thank you for the amazing granite countertops that you fabricated and installed. Our kitchen was transformed into what some would call a model kitchen. Your service far exceeded what we were expecting. We appreciate you being patient with our many phone calls and questions, your quick service, and being flexible with our requests…including our "bath-tub size" sink. Our kitchen is now my favorite part of our home. Thank you again for everything you did.
Mark P.
Washington, DC,