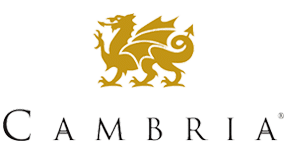 Cambria is much harder than granite or marble making it more durable. That means Cambria is less likely to scratch, chip, or stain for years of flawless service.
Granite and marble require regular sealing and polishing. With Cambria, all you need to do is wipe it down with a little warm water and mild soap.
When it comes to beauty, nothing can compare to Cambria®. But every one of Cambria's more than 140 designs is much more than just a pretty face. Look a little deeper and you'll find the uncompromising quality and unbeatable performance that make Cambria the perfect choice for life.